In the year 2006, we, Mundhara Steels emerged in the industry, as a profound manufacturer and exporter of metallic hardware instruments and equipment. We are an ISO 9001:2008 certified company. Our range includes Full Threaded Bolts, Machine Screws,Threaded Bar, Scaffolding Systems, Bolts, Jacks & Props, etc. We are a proud contender wide a wide distribution network which covers more than 70 countries such as Africa, Latin America, Sri Lanka, Bangladesh etc. as well as many European Countries. With a revenue of US$ 65 million and a huge work force, we have the biggest repository of hardware instrument in our region and provide complete service to our respected clients. When we first introduced our product range in international markets, the feedback was highly position. Since then we improved the quality and services day by day. Today we are the number one choice of many major companies who only trust us as their partner. This is the outcome of our commitment towards quality, reliability and exceptional services. Our strategy is to interact with customers appropriately for the better understanding of the their requirements as well as expectations.


Why Choose Us?
Following are some of the factors which make the customers choose and give us the title of the most entrusted exporter:
Prompt delivery of consignments
Quality services
Experience of more than a decade
Reasonable prices
Wide distribution network

Quality Policy
We are given ISO 9001:2008 certification for exercising a stringent quality control system at our premises. All the manufactured products are tested on various parameters as per their usage and application. Our experts make sure that the items are completely flawless. In addition to this, we take customers feedback and suggestions to improve our range accordingly.

Our Strengths
We strive to highlight the difference between us and the other contenders of the industry so customers can understand that associating with us is beneficial. Following are some of our strengths which make us superior:
Customized orders: We provide customized solutions as per client's need which make us one of the most prominent manufacturer and exporter
New Development: Our R&D team examine the latest market needs and transformation in markets and we adjust our services according to that.
Products Test Report: Along with our consignments we send the copy of product test. We do this to maintain the high reputation of our company.

Quality Labs
Our quality experts check the manufactured items as per the following quality standards:
Clamps- BS 1139, EN-74A
Structural Tube components- IS 1161 & Q235
Welding standards- Australian standards DIN 1910-100, AS/NZE 1554.7, AWS D01.7, AWS D08.8, AWS D09.1, AWS D-10.12, American standards AWS-IETY and European standards, EN / DIN

Products manufactured by us go through Surface Roughness Tester, Computerized UTM, BHN Testing and Surface Roughness Tester. Our aim is to constantly improve our quality management system and ensure that the range supplied by our company is matchless when compared to the offerings of other companies.

Infrastructure
The infrastructure of our company is equipped with modern imported machines and technology. In addition to this, it has various units such as design & development, fabrication, tools room, ware housing and packaging. Each run under the guidance of experts who ensure smooth functioning of our business.

"Our minimum order quantity is 10 Tons And We Deals In Doha, Kuwait, Oman, Saudi, UAE, Bahrain, Iraq, Egypt, CIS Countries, Germany, France"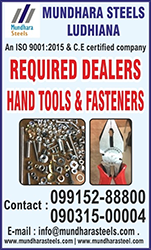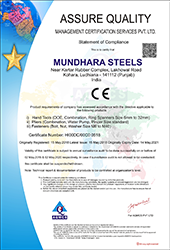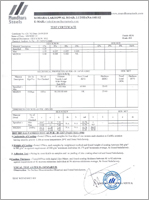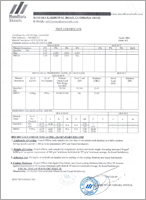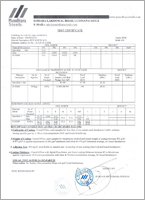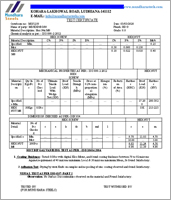 Read More